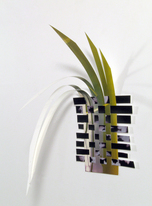 Weavings
In this series, "Weavings", after making the photograms from plants, flowers or other natural subjects, I cut the prints into strips and weave them, making a new piece that is both more concrete in its relief and dimensionality, and more abstract in its break down of color and recognizable form. The woven grid can suggest a pixelated image that is disintegrating and dissolving, or one that reveals an underlying energetic network that exists as part of the recognizable natural form. Some of the pieces have a kinetic quality, extending from the wall, and responding to the breeze or a viewer walking past. By intervening physically in the photographic print, I want to bring out both the tangible and the ethereal qualities of my subjects.
---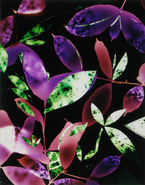 Cut Outs
In "Cut-Outs", after making the photograms, I cut and layer them, working against the preciousness of the photograph. Photograms, through the silhouette or impression of the subject they retain, inherently suggest absence and presence, and here can refer to what is lost through environmental destruction as well as to what is revealed. As with "Weavings", these quasi-sculptural interventions allow me to continue working on the images I make from nature, revisiting each piece and reconsidering its connection to and representation of the plant, flower, or other natural subject in question. I am constantly reworking the old to create the new, in imitation of the natural order of things.
---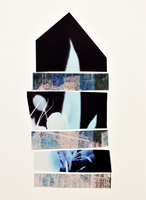 Home and Garden
From Dan Shepherd of Gallery 1/1:

One way to know a place is to be attuned to the cultural reflections in the landscape. Whether it is her own garden or the greater city, Mary's photogram collages feel like they both figuratively and literally reflect the evolving landscape around her. She assembles hand cut chromogenic color photograms of natural elements and New York Times newspaper clippings into collages that give us some insight on the forces she sees being exerted on places she loves.
http://gallery1of1.com/Artist-Detail.cfm?ArtistsID=1179
---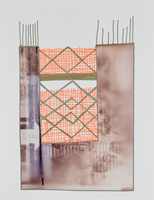 Under Construction
In many ways, this series is a continuation of "Home and Garden", but more directly influenced by the rampant construction and development on the edge of my neighborhood in Queens.








---
---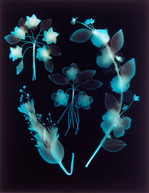 99¢ Botanicals
Inspired by the cyanotypes of Anna Atkins, the 19th century botanist and photographer, I collected these specimens from dollar stores in my neighborhood and brought them to the color darkroom to make photograms. I reproduced them using a photogram process similar to Atkins', but with contemporary color materials, and sometimes leaving the price tags on - an homage to the humble 99 cent store in every New York neighborhood.






---

Constellations
---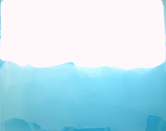 Chemical Landscapes
"Chemical Landscapes" are chemigrams, made in the darkroom with only color photographic paper and chemicals. They express my ambivalence about using and working with potentially polluting and hazardous materials, and their effect on our environment.






---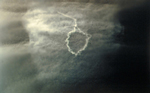 Repair
Yew : A Journal of Innovative Writing and Images by Women
Edited by Carolyn Guinzio and Stephenie Foster
February 2013 Issue
Scroll down to see my series "Repair" and the poetry of Meg Thompson